Greetings in the name of our Lord Jesus Christ and peace!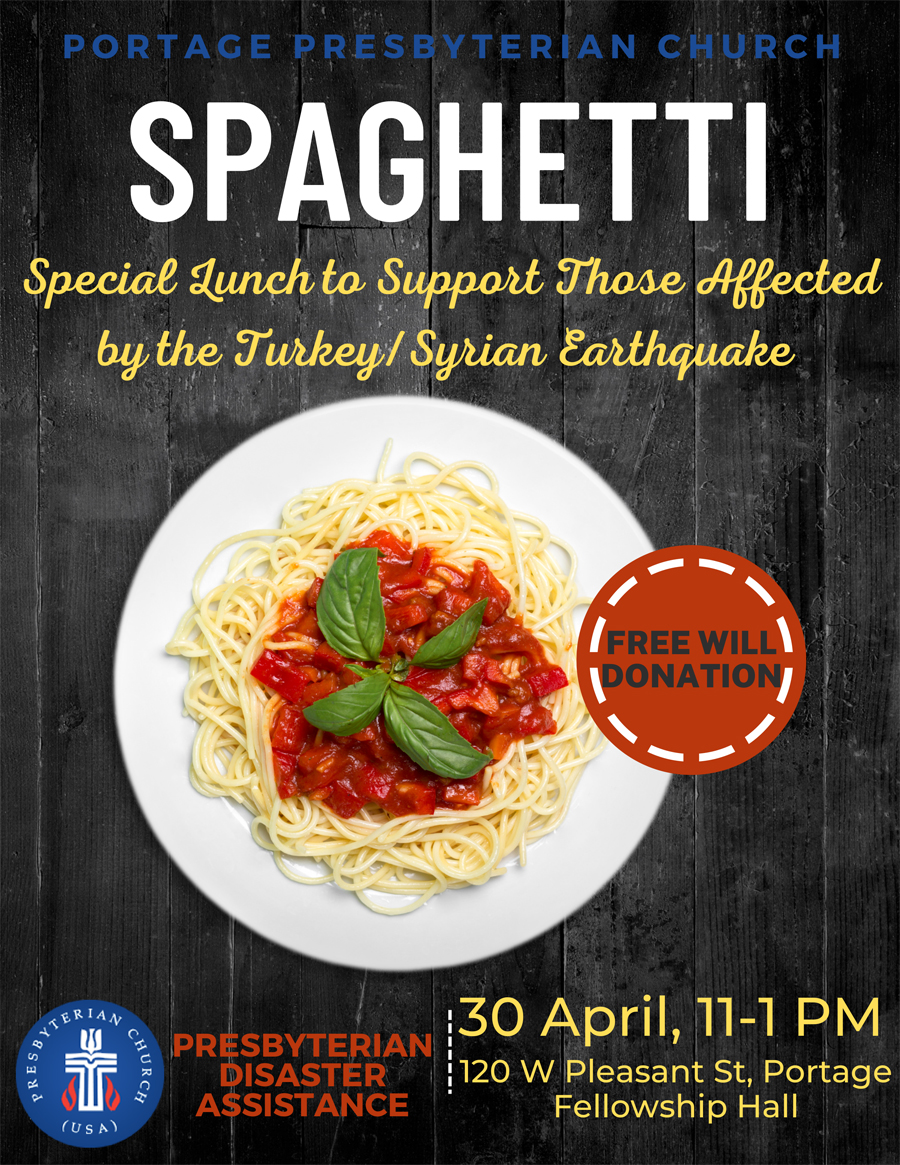 He is Risen! - He is Risen indeed!

Palm Sunday - April 2
Worship @ 10:05 a.m. - with the Lord's Supper
There will be a "Donkey Walk" as a part of the Palm Sunday experience
Maundy Thursday - April 6
Worship Services @ 12:15 p.m. (noon time) & 6:30 p.m.
The Lord's Supper will be served with both worship services.
Good Friday - April 7
Tenebrae ("Service of Shadows") - 7:00 p.m.
Easter Sunday (Early) - April 9
On the Wisconsin River Levee (near the Tamarack) - 7:00 a.m.
Easter Sunday (Later) - April 9
Easter Morning Celebration - 10:05 a.m.
~~~~~~~~~~~~~~~~~~~~~~~~~~~~~~~~~~~~~~~~~~~~~~~~~~~~~~~~~~~~~~

Sunday, April 16 - "Informal" Worship
The Second Sunday of Eastertide
John 20:19-31
Worship @ 10:05 a.m.
Sunday - April 23 - "Traditional " Worship
The Third Sunday of Eastertide
Luke 24:13-35
Worship @ 10:05 a.m.
Sunday - April 30 - "Traditional " Worship
The Fourth Second Sunday of Eastertide
Deacons will be leading worship with Alex Harvey
Worship @ 10:05 a.m.


          All who are interested in singing with the Choir for Easter -  we will be practicing @ 9:00 a.m. on both Sunday, April 2 and Sunday, April 9.
Hope to see all of you there!
Thank you to Lee Roundy who will be playing for the choir.
If you have questions or would like more information, contact Judy Taylor @608-617-4466.

If you have ever thought about playing the Handbells - here's your chance!
A "Handbell Choir" is being assembled for Easter Sunday. If you would like to be a part of this special music ministry, contact Kathy Hankins (608-742-2752) for more information. Thanks!
The Women's Association is looking for donations for Hope House. Some of the items on their wish list are fruit snacks, granola bars, crackers, girl's size 7/8 t-shirts, boy's size 4T and up t-shirts (clothes must be like new or new),dishwasher detergent, and 13 gallon trash bags. Wish lists are located on the table in Parry Hall. We will collect items through April 30th.
We will be putting in a Scrip order at the beginning of May. There are order forms on the table in Parry Hall. Please give your orders to Donna by April 23rd. If you have any questions, please contact Donna.
The John Knox Presbyterian Spring Gathering will be on Saturday, May 6th at First Presbyterian Church in Waukon, Iowa. Beverly Larson-Needham, an organ transplant recipient, will speak about the organ donor program. If you are interested in going, please let Donna know by April 23rd.
Our next meeting will be April 1 @ 9:00 a.m.  at Dino's. Come and join us!
We have Mission Chicken Soup Mix available. It's quick and especially yummy on a cold day.
If you have jelly or olive jars, or 8oz canning jars, we will gladly accept them. Please bring them to church. Thanks!
~~~~~~~~~~~~~~~~~~~~~~~~~~~~~~~~~~~~~~~~~~~~~~~~~~~~~~


PPC "volunteers" to "stock the shelves" at the Food Pantry on the 3rd Wednesday of each month - April 19 - usually @ 5:30 p.m. Volunteers are always welcome to come and help this community resource provide a necessary program for those in need in our community.
Come and help make a difference in the community!
~~~~~~~~~~~~~~~~~~~~~~~~~~~~~~~~~~~~~~~~~~~~~~~~~~~~~~~~~~~~~~
-3-



New Directions 4-H club is a very active group of young people from the area that meet together to share ideas, work on projects and learn great leadership skills.
The New Directions 4-H club meets @ PPC on the 3rd Sunday of each month, beginning @ 4:00 p.m.
Jen Martens is the advisor for the New Directions Club.

Congratulations - Ben (Troop 70) and Bethany (Troop 7070) on recently being awarded their Eagle Scout Award.
"Webelos Crossover" was celebrated here @ PPC on Sunday, February 26 - with Three Webelos Scouts "crossing over" to Troop 7070.
Pack 70 - Troop 7070 - Troop 70 continue to be active in their Scouting experiences. Among the activities in which the Scout Units have been engaged have been or are upcoming: collecting food for the annual "Scouting For Food" collection - a "lock in" for Troop 7070 in March @ PPC - making final decisions about Summer Camp - planning for a trip to South Dakota - "Highway Clean Up" in  May - an overnight trip to Lambeau Field - working on Cooking and Art merit badges - and, of course, having fun!
PPC is proud of the hard work and the service that the Scout Units provide for their own units and for the community.

Troop 70 and Troop 7070 are having a "fund - raiser" at the Portage Pizza Ranch on Wednesday, April 12 - from 4:00-8:00 p.m. All funds raised will help support the units as they plan for their Summer Camp and other activities.
"Sharing Supper" Information!
On Monday, April 24 - from 5:00-6:00 p.m. - Portage's "Sharing Supper" will be serving the community meal - @ Bartels Middle School. 
"Sharing Supper" is organized around the idea that it is good for people to come together - in community - to "share a meal" - along with conversations. Different organizations and groups in the Portage area provide the meals each month - ordinarily on the last Monday of the month.

"Kwik Trip" Car Wash Cards are still available!
For $36.00 / card, you will receive 5 -
yes, that's right - 5 "Ultimate" car washes (normally a cost of $50.00)
If you would like to purchase a "Kwik Trip Car Wash Card" - contact Pastor Dave.
~~~~~~~~~~~~~~~~~~~~~~~~~~~~~~~~~~~~~~~~~~~~


It is "easy" to make a "financial" offering
for the work and ministry here @ Portage Presbyterian Church
You may choose to .... Mail it to the Church Office or Drop it in the "mail slot"


Use the online giving option on PPC's Website
or

On Amazon Smiles

Your financial support for the work and ministry of God in and through the Portage Presbyterian Church  is greatly appreciated!
Together - we continue to share God's Good News in many ways
and YOU are helping to make this possible!
~~~~~~~~~~~~~~~~~~~~~~~~~~~~~~~~~~~~~~~~~~~~~~~~~~~~~~~~~~~~

To Contact The Portage Presbyterian Church
Phone: 608-742-6006
Church Office email: office@portagepresbyterian.com
Pastor Dave email: pastordave@portagepresbyterian.com
Website: www.portagepresbyterian.com
Facebook Page: www.facebook.com/Portage-Presbyterian-Church-155581354519952